Resounding success on the first day of the "Liga Infantil Climbat"
4 March, 2022
1st day of a lot of climb and fanaticism for the little ones
The last 27th of February  Climbat Avilés, Climbat X-Madrid, Climbat Sant Joan Despí -BCN and Climbat Zaragoza received a total of 225 kids which had the possibility of testing themselves and overcoming every kind of challenge composed of blocks and routes. The event, thought for everyone between 6 and 18 years old, is trying to be a boost for our sport apart from being a relevant date for the climbers of the Climbat climbing school.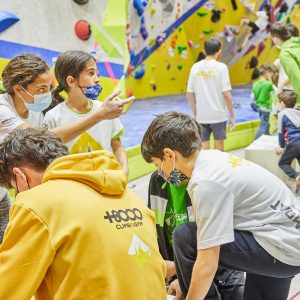 The day was composed of 22 challenges of different modalities, blocks and auto-belay climbing, separated into categories: "Benjamín, alevín, infantil and juvenil", with the aim of improving the sporting level through personal overcoming, the effort and the fair play, bringing closer the climbing's competitive format to the great audience and enjoying a funny day in which every level is valid and the knowledge exchange between participants is fomented.
The equipment's responsible have dressed the climbing walls in its bests and have transformed the blocks and routes into the gem for all the participants. At the end of the day the medal's giving to the winners of each category took place, what takes the competitors to the second day of the "Liga Infantil Climbat" which will be held the 24th of April at Climbat Avilés, Climbat la Foixarda -Barcelona, Climbat X-Madrid y Climbat Zaragoza.
+8000, Liga Climbat's official T-shirt
One more year, Climbat makes a demanding selection of the products which always goes together with centres and events under the name of #productooficialclimbat.  Like in the previous seasons, +8000 clothes will be the responsible of dressing the competitors and workers with their best garments. We will be the official T-shirt of the "Liga Infantil Climbat". In addition, we will have the new Climbingym line which have been exclusively created for the Spanish climbing walls. So that we will count on a new and unique textile line that have been at all costs designed to satisfy the demanding requirements of the climbers.