Pol Makuri ends his participation in Pekin 2022 as flag bearer in the closing ceremony.
14 March, 2022
Pol Makuri Redolad has finished his adventure in the Pekín Winter Games 2022  with his participation in the cross-country skiing half distance race, he ended up in the 22nd position with a time of 52:08.
On the podium of this race, in which 12,5 km are covered in free style, has been crowned by the gold of the Chinese Wang Chenyang, who has arrived at the finishing line in 33:07, the silver was for the French Benjamin Daviet, with a time of 33:09 and the bronze also stayed in the host country with the time of 33:18 of Jiayun Cai.
Undoubtedly, the hardest cross-country skiing race of this Paralympic Games, due to the suffocating heat at the Zhangjiakou Biathlon Centre. What is more, according to his coach and ski man, Nil Martínez "the bravery and determination of Pol in this race has been admirable, he did a perfect race".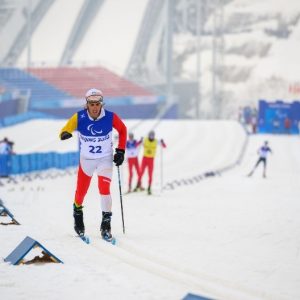 "It has been a hard race in which I have suffered a lot, due to the morphology, the heat, and the snow conditions. But I have demonstrated that with illusion and effort we can be on the starting line and compete in classic style", explained Pol Makuri after his arrival at the finishing line.
Like in the previous races of the skier, Julián Rebollo, the president of the "Federación de Deportes para-Personas con Parálisis Cerebral y Daño Cerebral Adquirido", (to which Pol Makuri belongs) and Miguel Sagarra, General secretary of the Spanish Paralympic Committee, have been there.
Yesterday, Sunday 13th of March, took place the Game's Closing Ceremony in which Pol Makuri paraded as flag bearer at the National Stadium of Pekin "the bird's nest". With this event the Paralympic Games of Pekin 2022 were over.